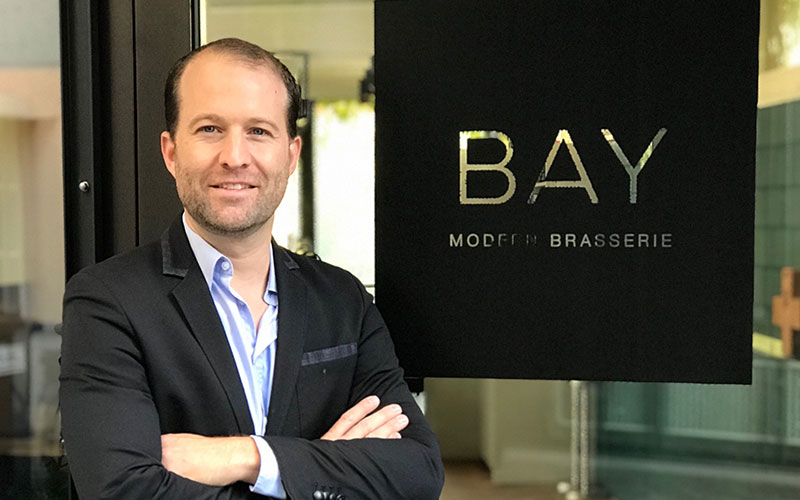 "Restaurant Bay was the first company founded on EasyGov.swiss."
Since March 2018, Bay restaurant in Bern has treated its guests to wonderful cuisine, beautiful interiors and views over the river Aare. Together with owner Maurice Bridel, the team at this modern brasserie reinterpret the classics of French cuisine with a strong focus on regional products. We met Maurice on Bern's Hodlerstrasse.
Hello Maurice, please introduce yourself and tell us a bit about your business.We are a modern brasserie in the heart of Bern, right next to the Museum of Fine Arts. As a qualified hotelier, I was able to be a part of some restaurant openings in Lucerne and Zurich. However, Bay is my own restaurant – my second actually, after Bonbec – which I brought to life together with my wife Christina.
How did you develop your passion for gastronomy?My mother worked for Swissair for five years. Her stories about the airline business and working in what was essentially an airborne restaurant always fascinated me. After sitting my baccalaureate, I completed my first internship in a restaurant – and that's where I discovered my passion for gastronomy.
What challenges do you, as an entrepreneur, face on a daily basis?Gastronomy is a real balancing act between success and failure. You need to keep costs under control without losing focus on the most important things: your guests and your team.
You were the very first person to register on EasyGov.swiss back in November 2017. What made you decide to do that?I have always been in favour of efficient tools and apps. EasyGov – the name really says it all. Registration is simple and there are several other options, such as registering for VAT, that also save a lot of time.
Your restaurant blends gastronomy with culture and architecture. What's next?In November, we will be opening the banquet hall of the historic Wurstemberg Tower just next door. I'm really looking forward to it. And of course we're already bouncing around some ideas about a new concept. But first of all, we need to make sure we do a good job here.