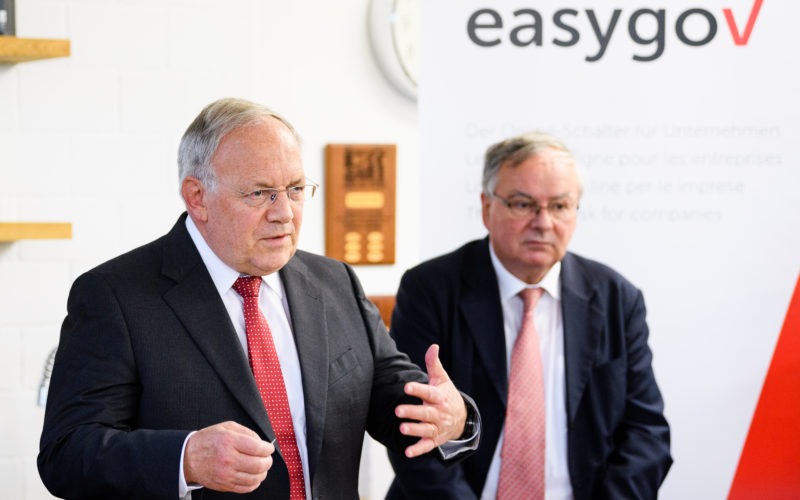 "The online counter EasyGov.swiss eases the administrative burden on SMEs"
On 6 November 2017, Federal Councillor Johann Schneider-Ammann launched EasyGov.swiss – the online counter for companies – together with representatives from the cantons and the private sector. In this interview, Federal Councillor Johann Schneider-Ammann explains what EasyGov.swiss is, provides an insight into everything the administration's new portal can do and states why EasyGov.swiss represents an important step forward for Switzerland.
Mr Schneider-Ammann, what is EasyGov.swiss?
EasyGov.swiss is the administration's new online counter for Swiss SMEs. We want to exploit the digital options available in order to allow companies to obtain simple, quick access to the services offered by the authorities. On EasyGov.swiss, company founders and already existing companies can find various services from the federal government, cantons and municipal authorities. These can be accessed centrally and securely online around the clock, 365 days a year.
Why do Swiss SMEs need a portal of this kind?
When companies are required to apply for permits or fill out forms at the counters of numerous authorities, this places an enormous strain on them. It causes costs and entails a great deal of personnel expenditure. The companies should not be investing their energy and resources in contacting authorities, but rather in their products and services. In order to remain competitive and innovative in the future, the SME economy is reliant on optimal framework conditions. The online counter EasyGov.swiss substantially eases the administrative burden on SMEs. During the entire project phase, the administration worked closely with the private sector in order to tailor the platform to its needs.
EasyGov.swiss will thus make Switzerland even more successful?
That is the objective we are working towards. Switzerland as a business location and its companies with their employees are operating in an environment of intense competition. We offer the most innovative and highest quality products and services. But other locations are significantly cheaper. We therefore need to further improve the framework conditions in those areas where we have a direct influence. Less bureaucracy directly eases the burden placed on companies, making them more competitive in the process. In particular, we have to also take care of start-ups by making it easier for them instead of putting administrative obstacles in their way. We have taken an important step forward in this regard with EasyGov.swiss.
What specific added value does the new portal offer?
Until now, Swiss companies were in contact with the individual authorities via paper forms or various online portals. And this was the case at a variety of government levels, ranging from the federal government and the cantons to municipal authorities. They were required to provide the same information several times. With the EasyGov.swiss one-stop-shop, companies can find all of their business relating to the authorities on a central platform. They can process all offered services via a single account with a standardised user navigation and only have to enter regularly required company data, such as address details or their commercial register number, once.
What is the current service scope of EasyGov.swiss and how will it be developed in the future?
It is now possible to establish a company on the EasyGov.swiss portal – including the options to register for old-age and survivors' insurance and accident insurance –, make commercial register modifications and clarify matters relating to value added tax. This is only the beginning: the range of services will be expanded on an ongoing basis over the coming years. It is planned that the most popular administrative procedures will be available to SMEs around the clock by the end of 2019.
EasyGov.swiss is an initiative of the administration taken as part of the E-Government Strategy Switzerland. What benefits do you expect the integration of all federal levels to yield compared to having a portal that is only operated by the federal government?
The benefits will primarily be felt by the companies. As mentioned, they will be able to find administrative procedures of all government levels on a single portal. However, the government authorities will, of course, also benefit if they are able to coordinate better with one another. With EasyGov.swiss, the federal government, cantons and municipal authorities are all pulling in the same direction and are working together to ensure optimal framework conditions for Swiss companies – this is a fantastic success story. And the responsibilities at the respective government levels will remain unchanged.
It is clear to see that the topic of digitalisation lies close to your heart. Why is this the case?
Because the jobs based in our country are very important to me. To ensure that we can also preserve them in the future, we have to harness the opportunities offered by digitalisation. Only then will we be able to keep our seat at the top table regarding employment, prosperity and prospects. We have the perfect conditions in place to do just that: our dual education system is outstanding and brings thousands of highly qualified, brilliant minds to the market every year. Our economy is broadly based, very innovative, quality-driven and flexible. If we improve the framework conditions further and are able to reduce the administrative burden, we will be making an important contribution.