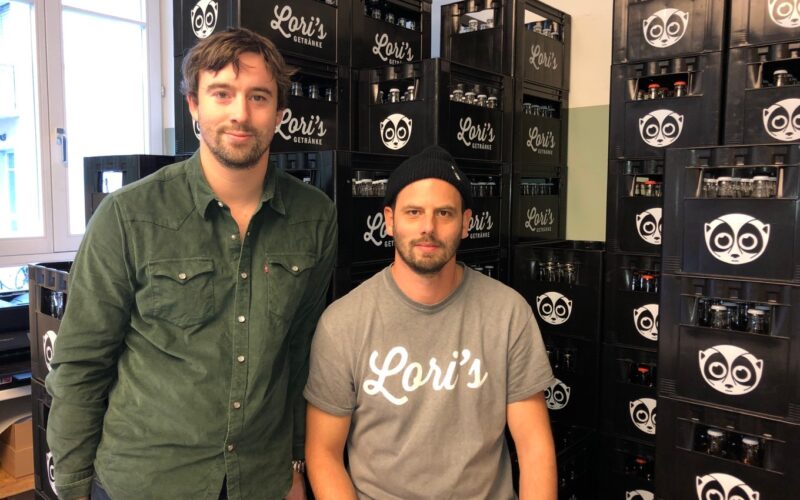 "Keeping value creation regional matters to us especially."
Brothers Mario and Claudio Bergen have been running the Koffeinshop in Lucerne for around five years, and in 2016 they launched the first cold-brewed mate drink made in Switzerland on the market. Their recipe for success: natural ingredients, little sugar, a lot of caffeine and regional sustainability. We visited Claudio and Mario in their Koffeinshop.
Hello you two, would you like to introduce yourselves and your company? We're brothers, our names are Mario and Claudio, and we work in our caffeine shop called Koffeinshop on Winkelriedstrasse in Lucerne. We sell high-quality coffee machines and coffee varieties from around the globe, and with our own roasting machine we create coffee specialities locally that you wouldn't find everywhere. Mainly though, from our shop we organise everything for Bergen Kaffeeservice and supply more than 400 Swiss companies with compostable coffee portions. In addition, our drinks company Lori's supplies Switzerland with two cold-brewed mate tea lemonade drinks that are produced on a wholly sustainable basis. 
What do you like most about your work? We have had our own company together since 2006. Being able to constantly reinvent ourselves and develop new products all the time is wonderful. It lets us indulge in our passion, which is a lot of fun and constantly presents us with new challenges. What's cool is that it's just the two of us getting everything up and running. 
Your production is highly sustainable and based regionally. Why does that matter so much to you? From the start it was important to us that we only produce in Switzerland. And more importantly, that the value created from our products is based regionally and transport distances are kept as short as possible. Since the mate tea comes from a long way away, we use Swiss sugar, and not some organic sugar from Costa Rica, just for the sake of getting the organic label, for instance. That would have been sort of contrived and it would have felt wrong to source sugar from so far away. And finally, it's fun for us as well and makes everything easier when the distances between everyone involved are so short.
What are the upsides to your work? That's easy: what we love about our work is that we sell products that we've developed ourselves and believe in completely. Just honest and fairly produced products! 
What do you think of the administration offering a consolidated online platform for SMEs to settle administrative tasks? EasyGov is a good idea in our view. We're not in business to waste our time on office work. So anything that saves us time gets our vote, like taking care of administrative tasks online at your desk instead of visiting government offices.