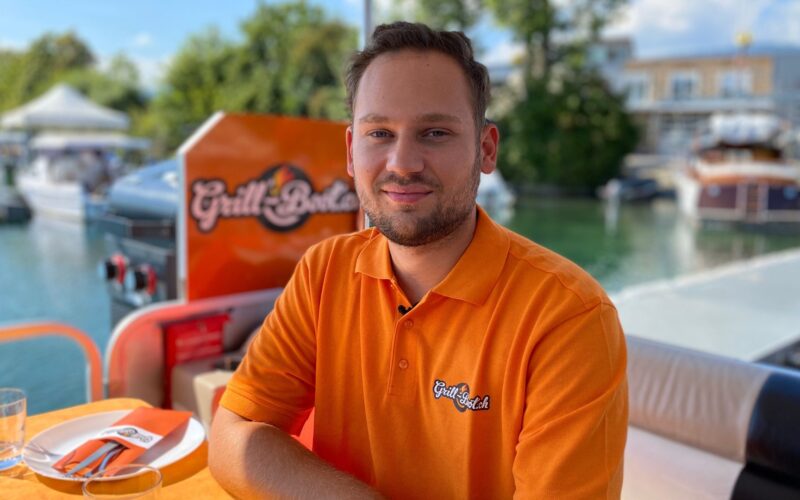 "We're very glad that EasyGov lets us get our administrative tasks done at any time of the day or night."
Barbecuing on the Solothurn Aare and enjoying time together: that's the idea behind the "Grill-Boot". It is run by the Solothurn family business, the "Aarewerft Lehmann" boatyard, which has been operating at the southern foot of the Jura mountains since 1955. Akim Lehmann is the managing director in the third generation and offers a glimpse of the popular leisure activity.
Akim, who are you and what's the deal with the "Grill-Boot"?
My name is Akim Lehmann and I am the third generation to run the "Aarewerft Lehmann" boatyard. Our company is a family business with many years of experience in boat building and maintenance. We employ twelve people.
When we started with the "Grill-Boot" in 2020, we branched out into a new area and have been very happy with how it's been going over the past two seasons. The three "Grill-Boot" come in different sizes and versions, but they can all be booked from the age of 18 without a boating licence.
The boats are equipped with a barbecue and a swimming ladder and are in use all year round. In summer, people have barbecues, and in winter they enjoy a delicious raclette, fondue or Café de Paris on the Aare.
Where did the idea of a "Grill-Boot" come from?
I have to confess that the idea of the "Grill-Boot" was not originally our own. The previous owner's inspiration came from his love of barbecues. He approached us when he was looking for a successor, as he had only rented out the "Grill-Boot" as a side business. My family and I were interested right away and took over the company in 2020. We're very glad we dared to take this step.
What day-to-day challenges do you face as an entrepreneur? And what do you particularly enjoy about your work?
Our biggest challenge is the weather. There are (relatively) many last-minute bookings when the weather is nice in summer. Then you have to be present and able to react at the drop of a hat to take bookings on short notice.
The best part of our job is when we receive positive feedback from our customers after the boat trip and they tell us they would like to come again.
You have been very successful over the last few years and your boats have kept you busy at almost all times of the day and night. When do you find time for administrative tasks?
That's a good question! (laughs)
Since we are available with the "Grill-Boot" from Monday to Sunday, we don't have so much time left for administrative tasks. This is precisely why we're very happy to have and use EasyGov, which lets us do our administrative tasks online at any time of the day or night.
Where do you see yourselves in the future? Do you have any plans yet?
As we also build boats ourselves at our boatyard, our goal is to expand the range and build another, even bigger «Grill-Boot» for twelve persons. Looking to the future, we would like to be able to offer the "Grill-Boot" in other waters at some point. That's something we're currently working on.