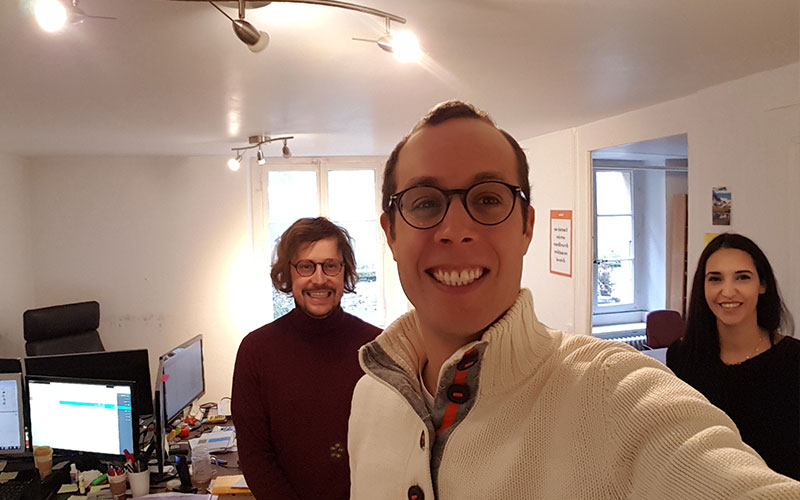 "EasyGov is practical and allows everything to be centralised at the same location."
Geneva start-up Expedismart is the right address for anyone wishing to send a parcel and pay as little as possible to do so. Whether domestic or international shipments, the four-member team headed by Léonard Schlaepfer has been comparing the prices of major courier and logistics companies for around four years so that parcels can be dispatched quickly, conveniently and at the best price. We met Léonard for a talk.
Hello Léonard, could you please introduce yourself and your company. My name is Léonard Schlaepfer and I'm co-founder of Expedismart.ch, a website offering a very simple way of comparing and reserving delivery services.
The idea came to me from my previous business, an export-oriented SME based in Yverdon. I started to compare the delivery services of major carriers, to analyse the customs restrictions of the countries to which I sent our goods and to look for a website to do this for me in exactly the same way as with air tickets. All this research cost me a lot of time and energy. The information was available but needed to be found and deciphered. A real headache for any exporter. It was on the basis of this finding that we decided to launch Expedismart.ch together with my partner.
Where do you get your passion for your job? What motivates us each day is to work on a complex situation and to try and make it simple and comprehensible for everybody right away. Our job is to ensure that our users don't need to ask any questions when sending a letter or parcel abroad or within Switzerland.
What are the challenges you face each day as an entrepreneur? Our greatest challenge is to provide our customers with a sufficiently swift response. A parcel can get blocked or have logistical errors, these are some of the hazards, but the customer needs to be informed and we have to find the best solutions to make his life easier. This is one of the added values that we offer with Expedismart. Another challenge is to make ourselves known with original marketing and limited funds.
You are registered with EasyGov.swiss. What prompted you to do this? The fact that it avoids the need for me to visit a cantonal or federal authority each time in person and enables me to do so online. It's so much faster. Moreover, the advantage of doing this online is that it provides me with traceability about what I have or haven't done. This is practical and allows everything to be centralised at the same location.
And what are your next plans (expanding your company, exporting, training)? Our long-term goal is to be a platform where SMEs can find all possible means of transport and a wide range of individual advice for their shipments.
In February 2019 we will be adding the option of reserving transport services from abroad to Switzerland. We are also in talks with a carrier with a view to being able to offer transport services for materials weighing more than 70 kg.
We are constantly working on two key aspects: to make the service as simple as possible for our customers while consistently improving the tracking quality that we offer and to automate small and time-consuming tasks in order to devote the time saved from these to our customers.