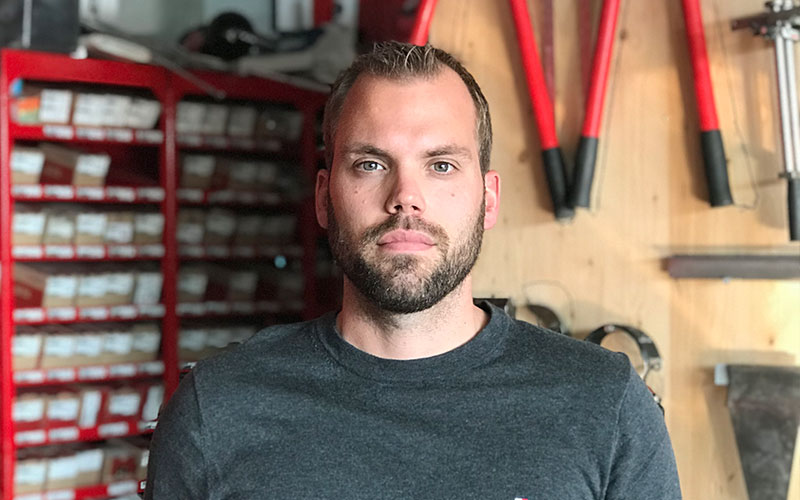 "Each day brings its share of unexpected events, difficulties and successes." 
Having been self-employed from 2006 to 2009, Florian Despond then established his own company, Florian Despond Sàrl, to adapt the structure of his growing business.
Working in the tinplate making and roofing sector, the business has managed to keep its initial area of expertise, wood shingling, as part of its activities.
With a workforce of six, the business has hit its stride and can carry out all kinds of projects, be it for buildings, villas, mansions or alpine chalets.
Hello Florian, please introduce yourself and your business. My name is Florian Despond, I am 31 years old and I have been running my own business for the last 12 years. We employ six people and we are specialised in all types of roofing work.
Where does your passion for your profession come from? I love taking on projects and having this constant rush of adrenaline, ensuring that each project is a success and turns out well.
What challenges do you face every day as an entrepreneur? Each day brings its share of unexpected events, difficulties and successes. But one of the greatest challenges is keeping management simple, despite increased demand, so as to be able to dedicate as much time as possible to our core business.
You have registered your business with www.EasyGov.swiss. What lead you to do that? Following on from my last answer, we make use of everything we can to keep management simple yet effective. EasyGov is a tool that does just this by helping to ensure that the administrative side of our business runs smoothly, while saving us time.
So, what's next for you? Expanding your business, exporting, training … In early 2019, we will launch a new service dedicated to waterproofing flat surfaces made from resin or bitumen. We have also invested a considerable amount in a new tinplate machine. So, we are on course for development without losing sight of our choice to remain a small, people-orientated business.