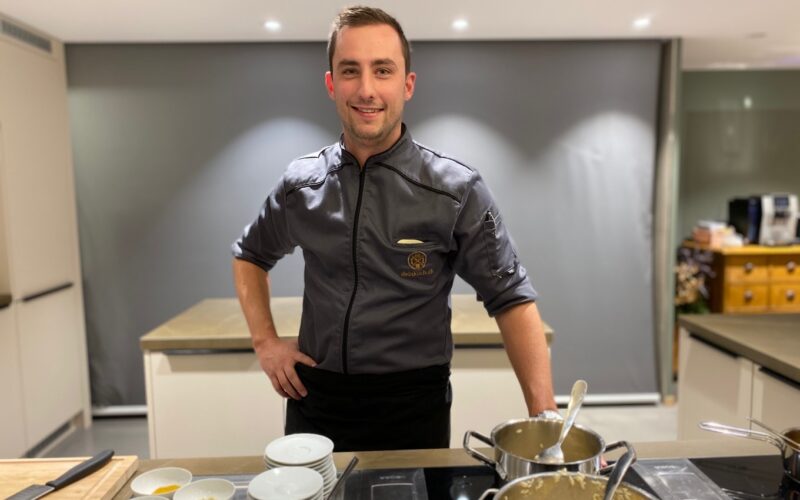 "Our daily challenge is having to constantly find our way around new kitchens."
Thierry Fuhrer is founder of DeinKoch.ch and has headed the company since 2017. The name speaks for itself. The chefs from DeinKoch.ch cook for customers in their homes. As personal chefs, they look after their customers' well-being and create a unique experience. We met Thierry while he was busy cooking.
Hello Thierry, can you tell us about yourself and DeinKoch.ch?
Hello, I'm Thierry Fuhrer and the owner of DeinKoch.ch. We offer customers a unique experience in their own homes. We do everything from delicious spreads for cosy evenings with friends to romantic candlelight dinners for couples and gala dinners to celebrate anniversaries. At DeinKoch.ch we create unforgettable evenings that will be long remembered by our guests.
 What inspired you to start up DeinKoch.ch and what aspect of your work do you enjoy most?
I like being able to use fresh ingredients for our customers every day, and to pour my passion into every dish so that diners really notice the difference.
We take care to use regional produce and go with the seasons.
What challenges do you, as an entrepreneur, face on a daily basis?
Having to find our way around a new kitchen is a challenge we are facing every day. On the other hand, that is what makes the job so fascinating and varied.
 In which ways can EasyGov help you?
EasyGov helps us with all the administrative work that goes on behind the scenes. It lets my team and myself focus on our work up front and spend more time in the kitchen and less in the office.
What's up next for you?
Well, we aim to keep on growing and extending our customer base. It would be great to do lunch for customers, like say, a good boss who decides to treat his employees and hires us to cook lunch for them at the office, and we'd like to move into other areas of the B2B segment as well.