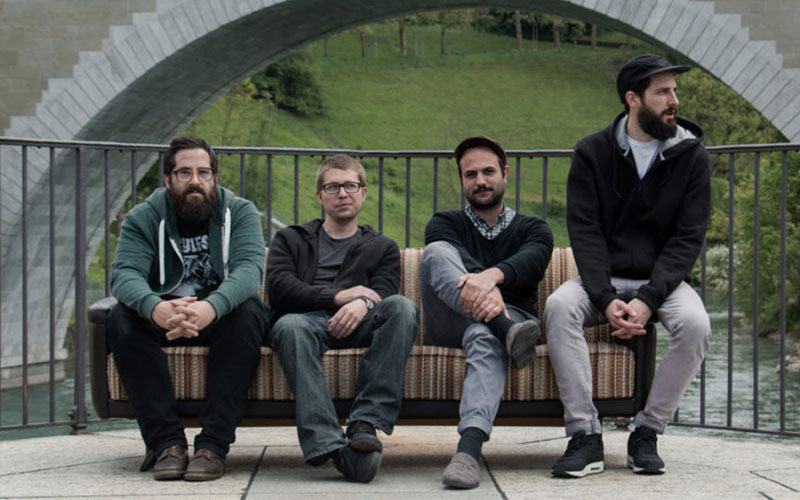 "Creating my own children's book would be pretty cool."
Silvio Brügger is a founder and member of the renowned Bern graphic design and illustration studio Blackyard. The other members of the collective are Philipp Thöni, Jared Muralt and Christian Calame. For over 10 years, they have been producing album covers for bands, posters for cultural organisations such as the Reitschule and campaigns for corporations such as Swisscom. Silvio instinctively chooses the right fonts for his texts and adds explanations where illustrations don't speak for themselves. We met Silvio in the Blackyard atelier.
Hi Silvio. Tell us a little about yourself and Blackyard. Hi, my name is Silvio Brügger. I'm a graphic designer and member of Blackyard. Blackyard is a graphic design and illustration atelier. We have been working together as a collective for more than 10 years at our atelier in the Mattequartier district of Bern's old town.
Why did you decide to dedicate your life to text and images? I like getting a message across in a simple yet effective way. Taking something complex and stripping it down to a simple core message without compromising on content is still something that fascinates me. That's why I chose this career.
What day-to-day business challenges do you face? The biggest problems I have to deal with are usually very short client deadlines. The challenge then is to make sure that I can deliver high-quality work on time. With so much focus on my clients and my creative work, there sometimes isn't time for the admin side of things. But EasyGov makes admin work much more straightforward and easier to plan.
What's up next? I currently have a few projects in the pipeline. I really want to create my own children's book, for example. That would be something pretty cool and different.