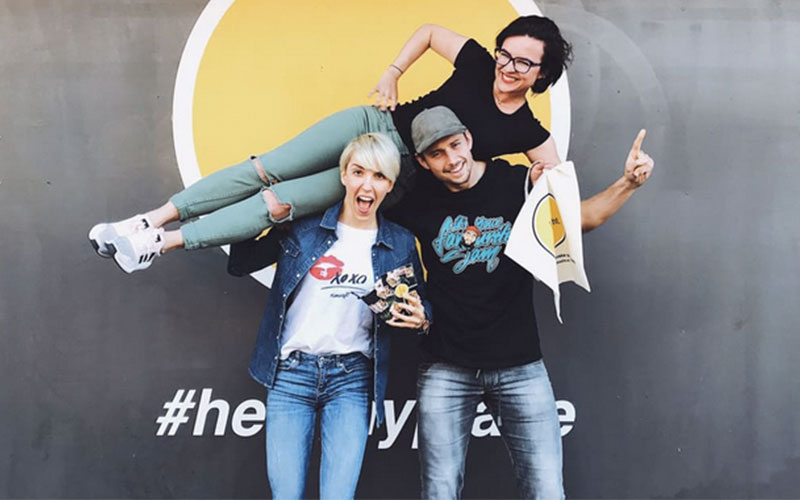 "As a start-up in the restaurant and catering industry, we constantly have to deal with financial, personnel-related and strategic challenges."
massgekocht. has been cooking for fitness-conscious Zurich residents since the start of 2017 and delivering meals to their homes and offices or even straight to the gym. Since the opening of their restaurant in the former club Indochine in Zurich's Kreis 5 district at the latest, the name "massgekocht." has literally been on everyone's lips. We met one of the founders Arbela Statovci for a chat.
Hello Arbela, please give us a brief introduction to massgekocht.massgekocht. is Ramona Romer, Chris Velkovski and me. We live in a hectic and increasingly digital world. What often falls by the wayside is healthy, balanced nutrition. That is where massgekocht. comes in: we supply anyone who wants to lose weight, stay fit or build up their muscle mass with freshly prepared, delicious lunch menus – at their workplace, their home or directly at the gym. When preparing our meals, we attach special importance to the use of regional, seasonal and sustainable ingredients.
When did it become clear to you that you wanted to cook for other people and help them to get fit?It became clear to Ramona and me when we were at university three years ago. Our lectures went on until late in the evening and we couldn't find anything decent to eat. Well, not anything healthy, anyway. That was when we had the idea for massgekocht.: we wanted to fill this gap in the market so we teamed up with nutritionist and coach Chris and started cooking for other people.
What daily challenges do you face as entrepreneurs?As a start-up in the restaurant and catering industry, we constantly have to deal with financial, personnel-related and strategic challenges. We reinvent ourselves practically every week by optimising internal procedures, making processes more efficient and expanding our offering. In doing so, we break down all areas according to our strengths and weaknesses – without losing sight of the big picture. What is more, we have never been self-employed before, which means that we are doing some of the things for the first time and have to read up and get to grips with them. Bureaucratic hurdles can be particularly disabling. This makes it all the more important to know where we can get help from.
What is your remedy for excessive bureaucracy?I am not a fan of bureaucracy. Thanks to EasyGov.swiss, we can register employees with the AHV Compensation Office quickly and easily, for example. It's a really great idea.
Where will massgekocht.'s journey take it?We want to increase the number of health-conscious people in Switzerland and help them to change their lives in positive ways by supporting them in the achievement of their personal goals. For this reason, the next step will be expansion. We will analyse other Swiss cities, and soon it will also be possible to order our food in Zug, Basel or Berne, for instance.